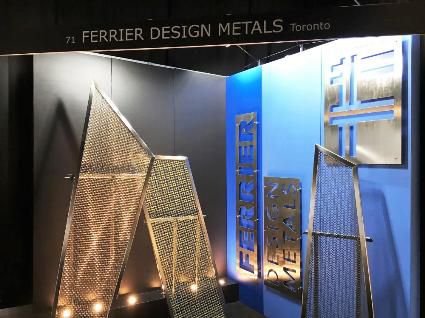 Light diffusion occurs when light enters a room and, instead of being absorbed by the object, it is scattered among other objects in the room. This scattering of light provides a sense of intimacy in a room, which designers can achieve through light diffusion materials. With this in mind, we can see how metal panel textures with elegant non-gloss finishes can achieve a diffusion that varnished wood and natural wall paint cannot achieve.
Light can make interiors feel more spacious. On normal glossy surfaces, light diffusion is undesirable because it creates undesirable sheen and reflections that disrupt and distract. However, interior designers can achieve non-reflective lighting with custom metal panel textures that introduces a new glamorous look that creates a modern, sleek statement.
Top-notch fabricators, such as Ferrier Wire and Design Metals, can achieve custom metal panel textures to the benefit of interior designers. Pattern customization is important because it allows designers to add a personal touch. Pattern customization also enables a designer to add an original, unique touch on their walls and ceilings, rather than only using the same material for each project.
The ability to customize lighting diffusion through metal panel spreads has never been done as exceptionally today as with metal panel textures. High-quality manufacturers can introduce non-gloss finishes that are lacquered, sprayed, brushed, anodized, plated, or buffed according to the designer's needs.
In addition to their high-quality aesthetics, high-quality metal panel textures are resistant to weather, fire, pollution, animals, mold, fungus, bacteria, and various chemicals. Metal cladding will not corrode over time, and it can be easily repainted or replaced if necessary without having to take down the entire building.
If you're looking for excellent metal panel textures, you can't go wrong working with Ferrier Wire and Design Metals. Contact us to learn more about our products and services today.