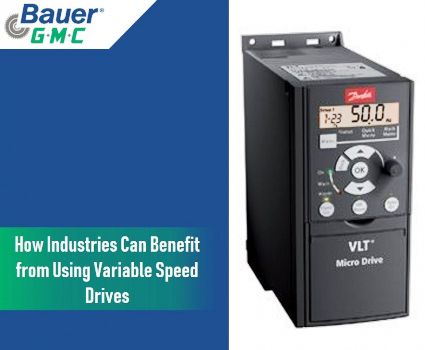 For any machine that operates on an AC motor, the use of a variable speed drive or VSD brings a plethora of benefits. Basically, it adjusts the speed of the motor depending on the needs of the given application. These benefits run a long list and some of them include the following.
Reduced energy costs
With speed levels provided as necessary, operators can decrease the energy costs by up to 70% with VSDs. Moreover, they avoid the need for different secondary mechanical parts while helping operators conserve space and decrease the maintenance costs that come with motor loads.
Ability to control the starting current
In applications where a lower starting current is required, the use of a variable speed drive gives the AC motor more longevity. Just consider all the mechanisms that are powered by the startup current which becomes more critical and the application of VSD addresses this issue by allowing the operator to control them. Hence, fewer power line issues are encountered.
Reduced power usage on startup
Similarly, with the use of a VSD and its ability to control the starting current, the motor requires less power, which also results in more savings. Conversely, fixed-speed drives are more susceptible to using more intense amounts of energy upon machine startup. You can think of the energy used during startup as how lights are turned on and off. The more they are turned on and off, the more energy is needed and the faster they are burned out. This is where using a variable speed drive resolves this energy-intensive activity, thus reducing power use and fewer maintenance problems.
Controlled process and modifiable speed
Unlike regular startups where mechanical shock often occurs and causes damages, the use of VSDs slowly builds up and gradually works its way up to higher speeds. This makes the startup process a lot smoother for full loads. Moreover, with a variable speed drive, the operator can maximize applications and alter processes along the way.
Conservation of energy
The application of VSDs reduces energy use considerably in centrifugal load processes by slashing the horsepower needed by a factor of eight. With this figure, the savings on energy costs would be exponential, particularly when consumption levels are decreased by almost 50%.
These are just some benefits of using the VSD and there are a lot more actually. So, if you think you are happy with these, just reach out to us to help you find the right drive for your application.